Case Studies Contents:
We spoke to Jaume Batlle Rodríguez PhD from the University of Barcelona, one of the largest and most prestigious universities in Spain.
He works in the Department of Linguistic and Literary Education and he's shared his thoughts on why he uses VEO and the benefits it brings to his role as a teacher trainer in Spanish.
VEO powers better teacher training
"VEO has given me the opportunity to create a better teaching training programme because it enables my students to gain control over their own teaching practice," explains Jaume.
"The VEO video platform with tagging capabilities means lessons can be recorded and reviewed, adding comments, tags and feedback about the lesson delivery, what worked and what didn't."
With VEO, Jaume can provide a great resource to trainee teachers and also qualified teachers too.
With teacher training, tasks are focused on students observing lessons recorded in real time. Students can tag and share their comments and feedback about what worked during the lesson and what didn't.
"Observing, discussing and assessing lessons of experienced teachers via video is a valuable tool in developing the future generation of teachers," says Jaume.
"
"VEO is also a great tool for the continued professional development of more experienced teachers at the university too"
Jaume Batlle Rodríguez PhD
University of Barcelona
The classroom becomes a reality
"By tagging teachers' performances and reflecting on the delivery of a lesson, this is a great way for students to learn about the realities of teaching in a classroom," highlights Jaume. "It enables them to think about what happens in class. We know it's easy to talk about classroom discourse but it's difficult to see it in practice. With VEO though, lessons can not only be seen, but also reviewed and observed in detail, giving trainee teachers the kind of insight they really need to become great teachers."
"
"The VEO platform and its tagging software capabilities are superb and play a critical role in the creation and development of great teachers."
Jaume Batlle Rodríguez PhD
University of Barcelona
Empowering Professional Development
The tool empowers teachers to self-assess, enabling them to review how they delivered their lesson, what worked and where improvements can be made. "VEO makes teachers think about what happened during their lesson and how the different classroom realities should be conceptualised," says Jaume. "This enables teachers to improve specific techniques and also share teaching initiatives with their colleagues as an example of best practice."
"
"VEO has enabled us to strengthen learning activities for our student teachers. They very much appreciate the possibility to tag, share and watch the same classroom sequence as often as necessary. We also see that their reflections are more explicit and hope that this will facilitate long-term learning."
Vicenta Gonzalez
University of Barcelona
Peer observation at its best
VEO has enabled Jaume to provide a continued learning programme for experienced teachers where tutors can observe them delivering a lesson by watching a VEO recording. Then carry out detailed feedback through VEO's tagging software capabilities.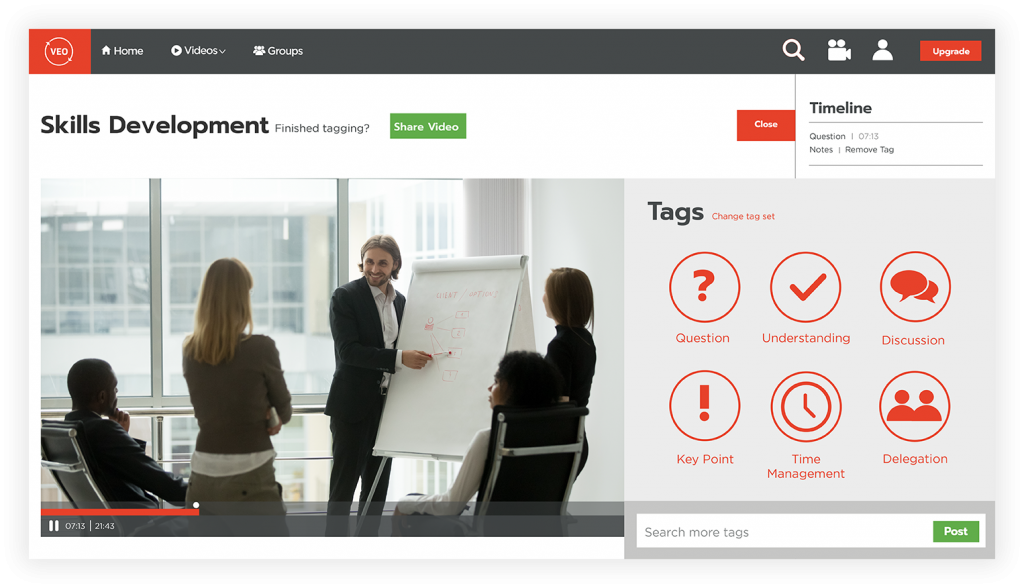 "It means teachers can watch and re-watch their lesson/s, focusing on what has been tagged as an area of interest, strength or concern," adds Jaume. "Because of this, teachers can directly improve their teaching, raise their own standards and, in turn, enhance the learning provided."