We've very excited to reveal that we've been working hard behind the scenes to update the VEO app. It's now even easier to unlock the power of video to get better at what you do.
We've taken on board everything that our clients and partners have told us over the last few years and have launched our all new app, including a host of additional features, with even more in planning.
If you're new to VEO, you can book an interactive demo here. While current VEO users can log in to the VEO app as usual and enjoy the new system straight away.
"What are the updates?" We hear you ask. Well…
AI (Automatic video analysis)
With the power of AI, numerous factors from new videos uploaded into VEO are automatically analysed. From there, you can customise the insights that are important to you including, subject and topic analysis, interaction patterns and searchable transcripts that take you exactly to the key points in the interaction.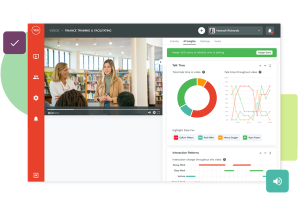 The powerful AI integration lets you know who is talking in your group and for how long, this information is conveniently presented in a timeline view. Along with a detailed interaction report pie chart, which will let you know who the most and least vocal individuals are in the group.
AI can also be used to create word clouds of the language used within a video. Helping you to understand the topic of conversation, and whether the words being used are relevant.If you would like to test out the current AI features, or suggest further tailoring to your needs, please get in touch
Interactive groups
You can now connect with colleagues and peers on a more informal basis through VEO groups. Create an interactive remote learning space where you can create video banks, share ideas, discuss specific topics, and collaborate from wherever you are.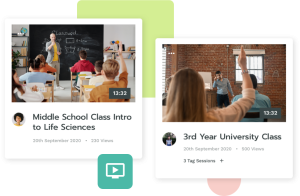 Video banks open up a whole wealth of possibilities for your group. Provide tagged video resources for new starters in your organisation, share examples of best practice with your colleagues, create a suite of tagged demo videos for a class of medical students, the list goes on.
With groups, you can create activities for everyone in your team to complete together. Discuss activities, collaborate, and compare your results or findings, all in one place. Easily share videos or files with others in your group, complete with hashtags for easily searchable content.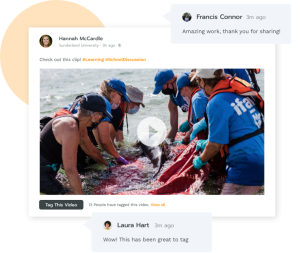 We're excited to see what you think of the all new VEO!
We're continually developing our platform to provide even more valuable learning from video… So be sure to keep an eye out for more updates in the near future!
Try VEO for free
It's easy to start turning your video content into valuable collaboration, learning and growth opportunities.
Book a demo to see how VEO can help your institution.